Your Visit
The Princess Alexandra Auditorium and Friarage Theatre are based in the heart of Yarm, on the Yarm School site.
The postcode is: TS15 9EJ – The school is located at the end of the High Street.
Parking
There is limited free parking on-site for 250 cars so please arrive early if you intend to park at the Auditorium / Theatre. There is parking on the High Street which is free after 6pm and only a short walk from the venue. Please note when the car park is full there will be no vehicular access but the pedestrian entrance will remain open.
Refreshments
Drinks and ice-creams are sold at all events at both before the show and during the interval. Due to the nature of some events, occasionally some events may not have an interval; this will be stated when booking. The bar is available half an hour before each event so you can enjoy a drink on the terrace overlooking the River Tees.
Pre-Show Dining
We are excited to announce that we are working in partnership with The Keys restaurant in Yarm to offer a pre-show meal deal.
This means before any of our shows you can take advantage of their pre-show discount, and guarantee to be in and out before the show starts!
Why not try out their tasty menu?
To book online: https://www.thekeys.co.uk/yarm/restaurant/ or call 01642 782534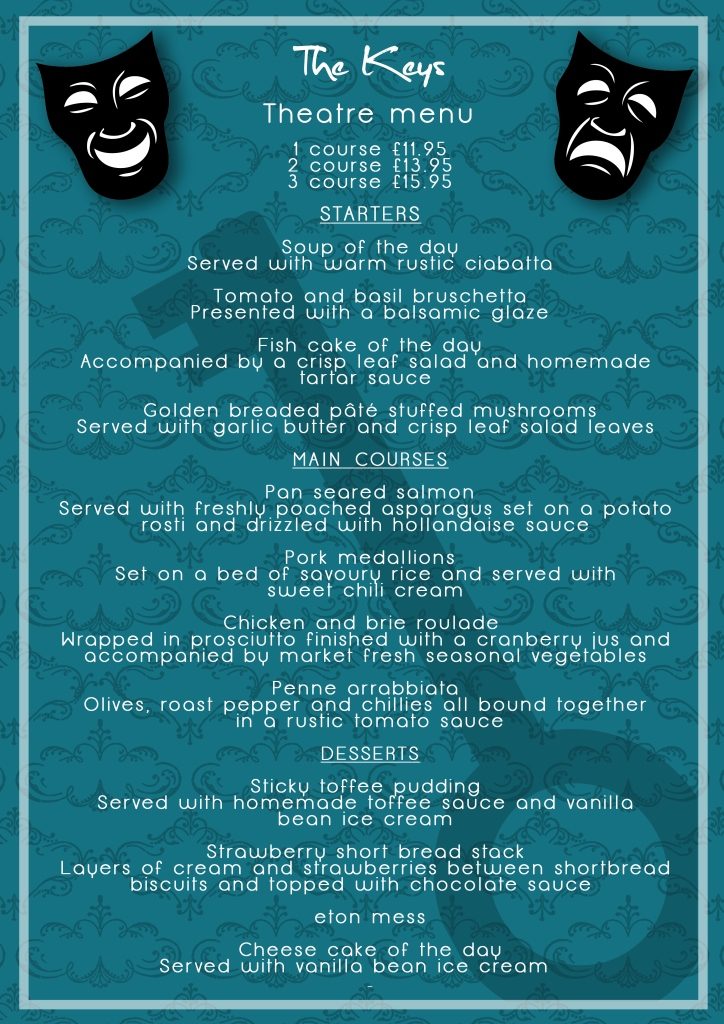 Access
The Princess Alexandra Auditorium offers easy access and floor-level seating for wheelchair users. There is a ramp up to the Auditorium from the car park and a lift down to the Auditorium seating. The Friarage Theatre also offers easy access with the entrance and theatre on one level; wheelchair seating is towards the rear of the theatre. When booking via the online system, the wheelchair spaces are highlighted. Wheelchair accessible toilets are located in both the Princess Alexandra Auditorium atrium and the Friarage Theatre foyer.
There is a sound enhancement system in the Princess Alexandra Auditorium. Please contact the auditorium in advance to ensure it is set up for your arrival and for information on the best areas to sit.
Guide dogs for visually impaired guests are welcome on site. We can also advise about the best seating to make your visit easier. Please contact the auditorium when booking your ticket.
Please inform the Auditorium Manager via email DPB@yarmschool.org or by telephone 01642 792587 if you would like to reserve a disabled parking bay.